Eye Exams
When it comes to your overall well-being, eye health is incredibly important. Impaired eyesight due to age or disease significantly lowers your quality of life. That is why it is important to have regular eye exams performed by a knowledgeable optometrist. At Exquisite Eye Care, we have years of experience offering comprehensive vision care to Houston and the surrounding areas. Here's a closer look at our eye exam services: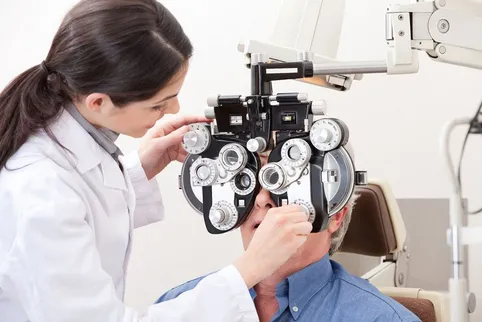 Eye Care
It is best to undergo an eye exam once a year, no matter your age or if you have eye issues or not. Dr. Tran and the team at Exquisite Eye Care offer yearly and bi-yearly eye exams. Whether you are a senior or in need of pediatric or diabetic eye care, every patient's needs are addressed by our optometrist. Our eye doctor will administer a series of eye and vision tests, assess the focus and movement of your eyes, and evaluate your eyes for any health issues, such as glaucoma or astigmatism. Our optometrist will give you a full report on your eye health and any recommended treatment.
Glasses and Contacts
If you need eyeglasses, prescription sunglasses, or contact lenses, our team will evaluate and fit those for you based on your needs and preferences. We offer a wide selection of eyeglasses and have something for everyone. If you prefer contact lenses, you will be fitted for those. We offer a package deal that includes two boxes of contact lenses to get you looking and feeling great. From gas-permeable lenses to daily wear soft lenses and extended-wear disposable lenses, we have the contacts to fit you and your lifestyle.
Pre- and Post-LASIK Care
LASIK surgery is also known as Laser-Assisted in Situ Keratomileusis, a procedure that treats the refractive conditions that cause you to be nearsighted, farsighted, or to suffer from astigmatism. If you and our optometrist think LASIK would be a good fit for you, we will refer you to a trusted ophthalmologist to perform the procedure. At Exquisite Eye Care, we offer pre-surgery preparation and post-operative care.
Visit Our Optometrist
At Exquisite Eye Care, located in the area of Houston, Dr. Tran and his team will provide you and your loved ones with comprehensive vision care including eye exams. For more information on the vision care services we offer, or to schedule an eye exam, call us at (218) 580-3937 or visit us online.

Make an appointment and get clearer vision today.

(281) 580-3937 - Houston Location